Computer Repair You Can Trust
Advanced Computers offers fast and reliable computer repairs that you can afford.

Laptop Repair / Desktop Repair
We repair all brands of laptops and desktops.
Laptop Screen Repairs, Power Jack repairs, Hard drive and Memory upgrades.

Virus and Spyware Removal
Don't let your computer get slow, make sure there is nothing running you don't want.

Data Recovery and Backup Plan
Make sure your important data is backed up in case of a computer failure.
Critical Updates
Updates are essential for proper computer operation, components such as printers and wireless work better with up to date drivers.
Custom PCs
We build custom computers for your business or for your home.
Don't let your computer slow down your important work.

Gaming PCs
We build and repair custom and prebuilt gaming PCs.
Game running slow? Can't play a certain game?  We can upgrade or repair any models.

Cracked / Broken Screen
Laptop screen repairs normally range between $100-200.  Touch screen models may be more expensive.

Windows Upgrades
If you are running an older version of your operating system, you won't get the current updates.
We can help upgrade and get your computer up to date.

Computer Tune Up
Get rid of unwanted programs and malware that can slow your computer down.
Some programs can run in the background and be annoying and slow down the computer, or prevent it from working properly.
Approach
Computer Upgrades
Revive your computer you currently have instead of buying a new computer.  Memory upgrades, OS upgrades, or even solid state hard drive upgrade will speed up your PC or laptop.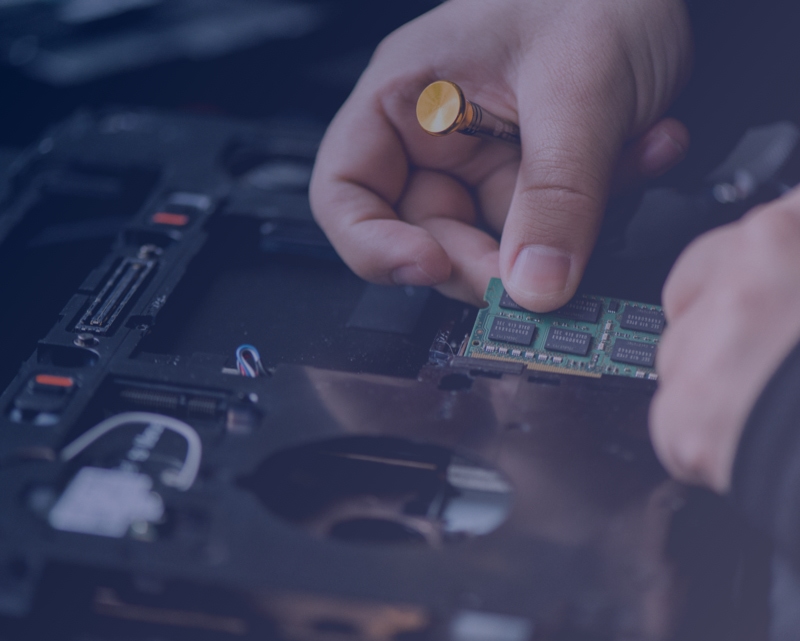 Fast Turnaround Time
Bring your computer in today for a free estimate.  Normally repairs are 2-3 days at maximum.
Come in for a free quote Easy Pricing
We offer free estimates and will quote the price of the repair after diagnosing the problem.
TESTIMONIALS
What People Are Saying
Great service and very friendly. Highly recommended! Thanks Joe
Darien Underwood
2023-04-11
I'm pretty new to PC gaming/owning a gaming PC and I admit I was a little embarassed to bring it in and ask for help when I was having power issues. Joe was a class act though and he was able to identify the problem I had spent hours on trying to find. He was extremely informative and open to my questions. He gave me a great recommendation on a part to order. Once the part came in he was able to help me troubleshoot and hook it up properly and extremely fast as I was on a limited schedule coming in before work. I came into his shop 3 different times for advice and he didn't even charge me once for his amazing service. I orginally picked his shop because it was just down the street from my house but now I couldnt see myself going anywhere else in the future if something else were to come up. I'm convinced Advanced Computers is the best choice for PC repair in the Pueblo area. Thank you, Joe!
This Guy knows his stuff, Joe did great work for pc and gaming repair and diagnostics.
terry brice-nash
2023-03-10
Always the best service, highly recommend
Laptop was needing a lot of help and not only was my computer repaired, it was timely and very fair pricing.
I highly recommend this company. The owner, Joe, is very personable and very kind. He did a great job for me on a gaming machine I was building and trying to troubleshoot. He quickly realized what the issue was and ordered replacement parts for it. If you can't figure out the solution, go to the experts for help. Joe is definitely an expert! The best part is the services rendered didn't break the bank! I will be taking my computer problems to Joe in the future.
Margaret Stringer
2022-10-01
They always pull a miracle when you think your old PC is beyond hope.
Joe is a straight up pleasure to work with, super informative and kind, and gets the job done fast. He's amazing at what he does and I'd recommend you visit here before anywhere else for any tech needs. I'd give 10 stars if I could. Thanks Joe!
Advanced Computers has allowed me to keep my computer running for the last five years. Joe is very knowledgeable and helps you find the best course of action to get your computer fixed. I cannot recommend this place more.
Office
198 S Purcell Blvd Suite 130
Pueblo West, CO 81007
Hours
M-F: 10am – 3:30pm                         Sat 10am – 2PM
Sunday: Closed
Call Us
(719) 647-7707
pueblowestpc@gmail.com